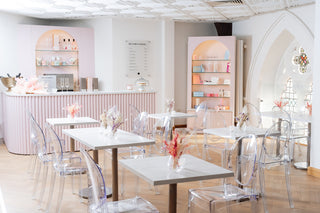 Treat Yourself
Afternoon Tea
Join us for Afternoon Tea, housed in our perfectly pink champagne bar. With locally sourced food, your choice of tea or coffee and a glass of fizz it's the perfect pick me up.
Afternoon tea in our Champagne Bar starts from £25 per person, and needs to be booked in advance. If you have any questions regarding our afternoon tea service, please contact our concierge team:
E. info@aisleedit.com
T. 0161 393 1879
Book Now
Use our booking system below to book your afternoon tea slot. Please ensure you select the correct guest in the particpant drop down when booking. A 25% deposit is taken at the time of booking.
If you have any questions or would like to speak to the team about booking Afternoon Tea, please email info@aisleedit.com or call 0161 393 1879
*Please note unless the deposit is paid 48 hours before your afternoon tea is scheduled, the booking will be cancelled. This is to prevent food waste for customers that don't show.