With first hand experience working for bridal boutiques in Manchester, and a Fashion Degree from Manchester Metropolitan University, Rebecca fulfilled her dream of launching a Manchester based bridal wear brand, Rebecca Andrews Bridal Design. 
The brand places focus on offering better choice in quality, handmade wedding veils for stylish modern brides. Brides are free to choose from a variety of lengths and colour options, allowing them to express their style through their choice of wedding Veil. Rebecca also offers a bespoke wedding veil design service where you can design and make your dream veil a reality.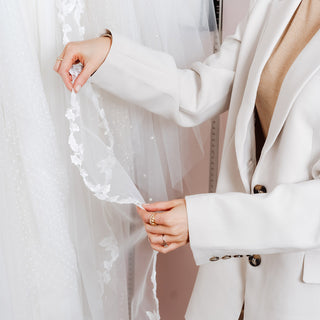 MEET THE DESIGNER
Designer Day - Find your perfect veil with designer Rebecca Andrews, in store on Saturday 1st July. Book your appointment below.