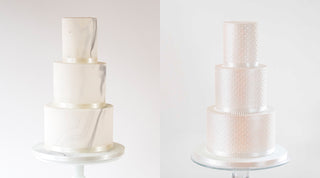 UNION CAKES
Union Cakes has simplified wedding cake selection with a collection of stylish, affordable options for North West weddings.  Our award-winning cakes are crafted with care, offering modern design, sustainability, and budget-friendly pricing.
With easy, online ordering you can choose one of our designer creations for a hassle-free experience or opt for a blank canvas cake to infuse with some DIY flair. Celebrate your special day with style, no matter the budget.  
Union Cakes is the brainchild of Suzanne Thorp, founder of The Frostery.  The Union Cakes mission is to empower and inspire couples with creative cake options, making it easier than ever for them to find a beautiful and budget-friendly centrepiece for their special day.  Recognizing that not every wedding requires a custom-designed cake, Union Cakes offers a selection of pre-designed, off-the-shelf wedding cakes, available for convenient online ordering at unioncakes.uk
Come into store at The Aisle Edit to chat with the team about Union Cakes offerings and see Suzanne's beautiful cakes in person.